It's an election tradition, and Premier Annastacia Palaszczuk hasn't shirked her responsibility to walk through at least one shopping centre during the election campaign.
Ms Palasczuk has joined Mansfield MP Corinne McMillan for a walk through Garden City shopping centre at Upper Mount Gravatt.
Ms Palaszczuk said "this is the first baby of the campaign!" as she strolled through Garden City flanked by local MP Corrine McMillan.
"Do you want to meet the Premier ? come over and meet the Premier," Ms McMillan calls out to everyone she passes. Of course there was no baby-kissing but plenty of selfies.
The Premier only made it about 40 metres from her car in the past 10 minutes, with lots of people stopping to meet her.
It comes after LNP Leader Deb Frecklington visited the electorate earlier today, going to an early polling centre.
The Queensland LNP will ask for a saving of two cents out of every dollar within each public service department, excluding Queensland Health, as part of its three-point cost-cutting plan.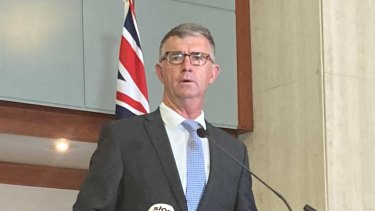 Shadow Treasurer Tim Mander says there will be no forced redundancies within the public service, unlike the 14,000 public service positions lost under the last LNP government with Premier Campbell Newman at the helm.
"The LNP will ask the Director-General to save two cents out of every dollar cent from their operating expenditure by targeting external consultancies, travel and corporate hospitality," Mr Mander says.
"Importantly, the LNP will not impose this 2 per cent efficiency dividend on Queensland Health, nor will it apply to wages or grants.
"Our health staff have protected Queensland we will protect them.
"Our efficiency dividend will save $200 million a year across the entire government, excluding Queensland Health."
Annastacia Palaszczuk is smashing through a string of Gold Coast seats today.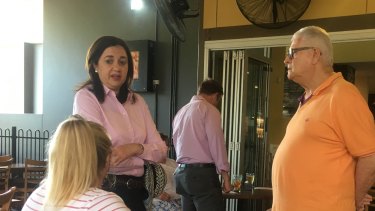 After visiting Burleigh, Currumbin and Southport, the Labor leader has stopped into a tavern in the marginal seat of Gaven for some hot chips and a chat with punters.
A group of women who just came from an early voting station were surprised to find the Premier at their local. "We just voted for you!" one of the women said.
The premier then stopped off to visit Foxwell State Secondary College, which the Labor government built during the last term of government.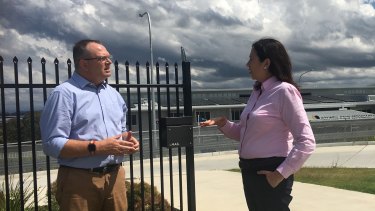 Due to caretaker rules, the Premier isn't actually allowed to step foot on the grounds but is taking photos from the street.
Ms Palaszczuk is expected to visit Coomera, Mansfield and Caloundra before the sun sets on day 24 of the campaign.
LNP shadow treasurer Tim Mander has revealed a "fully funded, fully costed" plan as he released the party's campaign costings.
Committing again to no new or increased taxes and no forced redundancies for public sector staff, Mr Mander revealed that the LNP's total campaign promises would cost $5.05 billion.
Mr Mander said that would be fully funded through "offsets" of $7.38 billion which included $4 billion in borrowings announced by Labor.
Mr Mander defended using Labor's borrowing, which he has previously described as a "slush fund", by saying the money was already being borrowed, so they would work with it if elected.
The "offsets" would include a 2 per cent efficiency dividend to be applied across government departments, with the key exception of Queensland Health.
The LNP has previously slammed Labor's efficiency dividend of 2 per cent on Queensland Health, saying it amounted to a billion dollars' worth of cuts over the forward estimates.
Mr Mander said they weren't being hypocritical because they were specifically leaving Queensland Health out of the measure.
"We won't touch Queensland Health because in the middle of a pandemic that is irresponsible," he said.
LNP deputy and shadow treasurer Tim Mander is handing down his party's election costings, explaining how they will pay for their promises while also meeting their target of 5 per cent unemployment and a surplus in the next four years:
Deputy Premier and Health Minister Steven Miles is warning there will be a "trade-off" of current local restrictions not being eased if the border with NSW is opened.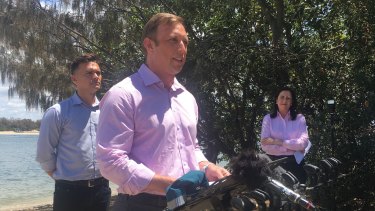 The decision on the border is looming, with the state's Chief Health Officer, Jeannette Young, due to make a decision on Friday.
Mr Miles said he had not had an in-person briefing with Dr Young today but had received a written summary of the current situation, which did not contain any indication of what her thinking was on the border issue.
Asked about easing of restrictions on licensed venues, Mr Miles said they had already been eased as far as they could be, especially if there was any change to the border policy.
"There is a trade-off between border restrictions and domestic local restrictions – if you're letting more people in then you need to be more cautious about social distancing," he said.
"So at this stage there's no intention to ease those [restrictions] any further.
"If we were to rush to allow more people to come in, that would create a risk of cases, and if we didn't have some social-distancing restrictions in place, the risk of those cases turning into major outbreaks would be much greater."
The Deputy Premier committed that he, Dr Young and Premier Annastacia Palaszczuk would all be available to answer media questions tomorrow after the border decision was announced.
LNP leader Deb Frecklington has blitzed three Brisbane seats in fewer than four hours before her party costings are released.
Shadow treasurer Tim Mander will reveal how the LNP will pay for its election promises at a media conference on Thursday afternoon.
Ms Frecklington started the day with two visits to the seat of McConnel – one at the RNA Showgrounds in Bowen Hills and the other at an early voting centre on the corner of McLachlan and Winn streets in Fortitude Valley.
McConnel is held by Education Minister Grace Grace with a 7.8 per cent margin, but LNP candidate Pinky Singh and the Greens Kirsten Lovejoy both consider it within reach.
The Aspley electorate was next for Ms Frecklington – swinging by the early voting centre at C3 Church in Bridgeman Downs.
The seat is held by Labor's Bart Mellish with a margin of just 1.17 per cent and he is up against a very strong LNP candidate in former Brisbane councillor Amanda Cooper.
The third electorate was Mansfield, where she made an appearance at the local early voting centre.
Surfers Paradise MP John-Paul Langbroek was also at the Mansfield polling booth.
The seat is held by Labor's Corrine McMillan with a 1.62 per cent margin, a knife-edge seat and hot contest with LNP candidate Janet Wishart.

NSW Premier Gladys Berejiklian has walked back comments that Queensland LNP leader Deb Frecklington "would have opened the borders months ago".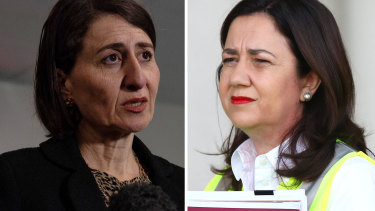 On Wednesday, Ms Berejiklian said the pair were in frequent contact: "She feels strongly about keeping jobs in our state and getting tourism up and running. I know if she was elected premier she would open the border," Ms Berejiklian said.
Ms Frecklington distanced herself from the claims, and on Thursday the NSW Premier said "she'd not had that conversation" when asked if the pair had specifically discussed a plan for reopening borders.
"But I know that she's very concerned about jobs in her state."
The Queensland Premier says someone is telling a furphy.
"Oh, I am quite sure she had those conversations," Annastacia Palaszczuk said.
"She was very adamant yesterday but now all of a sudden it doesn't suit the LNP so they are changing their tune.
"Mark my words, Gladys Berejiklian, the NSW Premier, said very clearly she had had conversations with Deb Frecklington and she was absolutely confident Deb Frecklington would have opened the borders months ago."
Ms Palaszczuk's deputy, Steven Miles, was sceptical as well.
"[Ms Frecklington] has been telling Gladys one thing and Queenslanders another thing," he said.
"Frankly, I have more faith in what she is telling Gladys behind closed doors than what she tells the public."
Annastacia Palaszczuk says she will not open the borders against health advice, even if thousands more jobs are lost, after a major Gold Coast theme park operator announced it was putting plans to recruit 500 staff on hold.
The boss of Village Roadshow Theme Parks, which runs Wet'n'Wild and Movie World, expressed disappointment on Thursday over what he said was poor communication from the government and a politicisation of the border decision before the annual summer season staff drive.
"Our recruitment depends on the border opening. If it does not reopen, then hundreds of summer jobs on the Gold Coast will be lost," chief executive officer Clark Kirby said in a statement.
"As one of the largest tourism operators in Australia, we are seeking clarity on the Premier's border position so we can prepare for the summer period and start the Gold Coast's economic recovery."
His comments followed a slew of tweets from chief operating officer Bikash Randhawa in the past 36 hours calling for the borders to open "or we are dead".
"@StevenJMiles just said [the] hospitality sector is running as close to normal and doing better," Mr Randhawa tweeted on Wednesday night.
"Which world is this man living in. We are all bleeding away."
Responding to questions on Thursday, Ms Palaszczuk promised to be available for media comment after the border decision was made on Friday.
"I have to do what I have to do to keep Queenslanders safe," she said on Thursday. "I am not diverting one step away from that."
The global pandemic has seen a sharp drop in the use of illicit drugs across Queensland, but the use of ice is still a problem, especially in regional areas.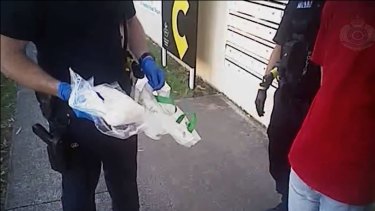 READ MORE: Weekend drinking in Queensland cities dropped during lockdown
The latest report from the National Wastewater Drug Monitoring Program found up to the end of the previous reporting period in February ice use was climbing steadily across the country.
However that dropped off sharply from March as lockdowns caused a freeze to underground supply chains.
Despite that, users were still able to access many drugs, including ice, which saw a record spike in April after the dip in March.
The LNP has announced a dedicated ice taskforce will be set up if they win government, while the Labor government has held several regional roundtables to discuss what to do about the issue.
In perhaps a sign of hope for the future, the report found ice use appeared to be dropping with younger users, possibly, the report speculates, due to diversion programs and its general poor reputation.
Poll Call: LNP releases $5 billion in 'fully funded, fully costed' promises
Internewscast – World Leading Trending News Medium


Read the original article onAhram Online